Published In C&K Magazine: Vol. #1 – Issue #1 – Date: 2006
C&K: Since retiring in 1994, how do you spend your time?

MA: Let's say my plate is full! I have a relationship with Bridgestone, Firestone, Chevron, Texaco and others. Maybe a hundred days of my life are taken each year with those companies. Then I have several other businesses that occupy some of my time. We have a winery in Napa Valley which I enjoy very much, a petroleum company in the West Coast and a couple of car dealerships. Basically, that is what I'm doing right now, but with all of it combined, I'm a pretty busy guy!
C&K: Your winery in Napa Valley, Is it under the Andretti name?

MA: Yes, Andretti the label.
C&K: Your racing school recently opened in Las Vegas and all indications are that it is a huge success; do you plan to create others elsewhere?

MA: No, Las Vegas will be headquarters.
C&K: Was their any particular reason why the Las Vegas location was picked?

MA: The Las Vegas speedway is very modern and second to none. It just seemed to be a great venue. From a business standpoint, it's something else to offer to all the people that venture to Vegas for something to do besides gambling.
C&K: You have one of the mostimpressive resumes in racing. The longevity and versatility of your career is well documented. Did you visualize this as a potential career direction from the start or did you just pursue you passion?

MA: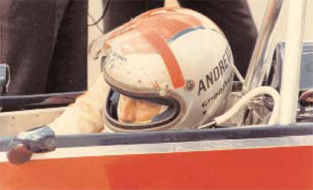 Well, I couldn't visualize anything; I just pursued a passion. It's something I had that absolute burning desire to get involved. I had no family background, no one that could really direct me or even help in anyway. So with my twin brother, Aldo and I, we just found a way. Nothing was a given. My brother for instance has encountered all the classic obstacles. He was almost killed at the end of the first season. He crashed in a car that we actually built and was in a coma for almost eighty days. Then two years later, he came back and started racing again. He then raced for another seven years and then had another big crash in 1969. Westarted in 1959 when we were nineteen, and after the crash I just begged him to retire. And so you can see his dream of being a race driver just did not really materialize the way he was hoping. But for me things just happened. Timing just worked for me.
C&K: You and your twin brother Aldo began racing at a very early age, was your family supportive of your interest in cars?

MA: Absolutely not! No, my dad just didn't understand. All he knew of was the fatalities and the negatives of the sport. He was certainly not a race fan in anyway. He had other hopes for us. We had a total disconnect there. First of all, he didn't know we were racing, we didn't dare tell him. After Aldo got hurt at the end of that first season, he thought well, we learned a lesson. When he realized that we were racing again, all hell let loose. He went as far as to potentially disown us. He was really against it. Then he saw that we had the mindset to continue. By the time we reached age 21, he had accepted it and became the biggest supporter that I've ever had in my life, but that took a few years. Then there was a lot of pride on his part and he would wonder why we would win every race.
C&K: Was there one race that changed your life?

MA: Well, probably the first race. Although, I think from the standpoint of changing my life in a dramatic way it was winning Indianapolis. It was very powerful for my career as it usually is for a driver. I'd say Indy was the race that probably created the most opportunity and changed things for the better more than any other event.
C&K: When you see other members of you're family racing. How do you feel? Are you able to separate yourself or do you get emotionally involved in the technical aspects of it?

MA: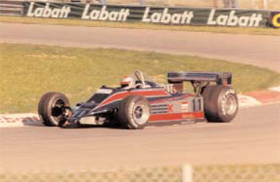 There's a rollercoaster of emotions, no questions about it! The sport is charged with emotions and especially when you have a family member involved. For myself, I have to watch my sons coming threw the ranks and dealing with all the things that I know they would have to deal with. In 1992, my younger son Jeff almost lost his life in Indianapolis. He almost lost both of his legs at the same time. You almost see your own child pay the ultimate price and it's traumatic, no question. The one thing about it is that I never directly encourage my kids to do it. Obviously they were exposed and had to be influenced; but I never said "You know what? This is the way to go, you should do this because I'm doing it", none of that. The kids made up their minds on their own. Obviously once they decided to do it, and they were mature enough to make that decision, you are going to support them in every possible way. I'll come back to your original question, how do you feel about it? Sometimes it's tough. There's a lot of pride, a lot of things that ride with it. But it's just like my twin brother and I. I have two sons that both raced, one was like a laser. Throughout out his career just winning and doing alot of great things for himself and the other one, paid the price and his career was
cut short.
C&K: You always appeared cool and relaxed, what was your pre-race routine and were you superstitious about it?

MA: Well, we kid about that. I think it's something that's very private and I suspect that almost all of us, in our own way, have a little ritual. I always say I'm not superstitious but, I would always get in the car from the same side. Crazy things you just don't talk about. You just try to do the same things again if it worked before. If somebody would put a program or something in front of me and gave me a green pen to sign it with and there was something about every time I put my signature in green I had a bad day. So I would just throw the pen, and then have to explain to the person. Okay, now I need a black marker or a blue one. My son knew about these things and he would defy all of them. He would get in a car from the right side sometimes, sometimes on the left and make sure that I saw. He'd even wear green. But again, when you are in the game of chance, you think, you don't want to temp faith. There are dumb things you just do; you almost think it's a comfort factor.
C&K: Just as in any business, you must have encountered fear or uncertainty, what did you do to combat it?

MA: From my stand point, Ithink I just maintained focus and did my homework. It's like anything else, if you feel that you are prepared then you have the level of confidence and always try to reach that level. It was up to me to do the homework, to do all the right things, prepare physically, mentally, and do the maximum job that I could do with a car and make sure the car was as competitive, as can be. All those elements I think are important and it comes down to team work and being able to work with a team properly, maximizing every individual in the team; and all of this works either for you or against you. If you have all these elements in place then you can be instrumental. So you try to make sure they are in place so you can feel that much more relaxed. Before a race, I would always try to run things threw my mind. I always felt that the most critical part of a race was the start. That's when a lot of things can happen because emotions are running high and not everyone can control their emotions. So a lot of mistakes are made at the start. All that anxiety is where the proverbial butterflies come in and you just can't wait to get down with business and get on with it. I think the key of feeling relaxed is to prepare properly.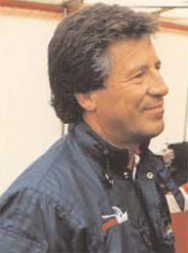 C&K: Throughout you career was there one racer that you felt was your rival that you really had to keep an eye on?

MA: Well, there is more than one. I mean it would never be just one. There would be certain times a particular individual would be the one that you knew, if I'm going to score today, or tomorrow, or next week, this is the guy I have to get by. There was Jackie Stuart, in the beginning of formula one; AJ Fout when I began my champ car career and so on. There is a long list of fabulous drivers that I was very fortunate to be driving against. All of them were the obstacle I had to get by to win and that's were the challenge and the satisfaction came in.
C&K: How has the business of racing changed over the last twenty years?

MA: Like business in general it's more sophisticated. There is a lot more knowledge and everything is more specialized. It's just the way you would expect it.
C&K: How do you feel about the incredible growth in popularity NASCAR has received over the last couple of years?

MA: It's something that caught on, and we were able to cultivate it and maintain stability which is very important. You know it's a flashy thing and it catches the imagination of the masses but is very low tech and very easy to understand. It's a great discipline and they put on some great shows.
C&K: Has the sport become safer over the years or does the increased popularity and money make for a more aggressive and potentially reckless driver?

MA: No, I think this sport of motor racing, like no other sport, has really come of age. Since the sixty's and seventy's it's changed so dramatically. There is so much work that has gone into the development of cars, and understanding how to dissipate forces of impact and the energy of impact. I think a great deal has been done on rough courses, run off area and sand traps that slow the cars down before you hit a hard object out in the ovals. They have safety barriers that absorb the initial energy, which is all-important. I think the very health of the sport depends on it being as safe as possible. The quest of making it safer should never end. You always learn about the cars and all the cars at this level are instruments. Any impact, anytime you have an accident, information is downloaded, stored and used to study and determine, what happened. What was the angle of impact, G forces and were there any injuries. Based on that knowledge you continuously do different things. Personally knowing that my grandson Marco will probably be the next guy in the family that is going to make a career of this, I feel so much more comfortable knowing that all these things are in place. I think now, and I'm knocking on wood, but I feel that the drivers of today have an absolute clear opportunity to retire at there own pleasure and not to be forced to retire because of injury.
C&K: Would you ever consider racing again?

MA: I would if I could barrow ten years from somebody. You just can't do it forever and I think I'm one of those guys that squeezed as much as I could out of it. I raced continuously until I was fifty-four.