Coming Soon:
We are proud to announce that our new interactive magazine will be available soon. Please take a moment to review examples of our previous work as a Publisher and Editor listed below.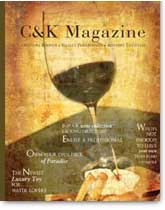 C&K Magazine was originally launched in print form in 1999 reaching a readership of over 100,000 per issue. As predominately an in-flight periodical, the magazine could be seen on most major airlines. In 2005, it went digital, becoming a pioneer in the online publishing field offering readers interactive features such as audio readings, live video, music and direct connectivity to products or companies featured in each issue. Content featured international business articles, high-end lifestyle features, celebrity interviews, health & fitness news and more. The following celebrities had appeared in the periodical: Amanda Beard, Mario Andretti, Cindy Margolis, Lou Ferrigno, Steve Garvey, Brian Tracy and many more.
Below are previous examples of digital magazines developed by our senior management.
Publishing Experience
Please click on any cover to open and turn your speakers up!

Contact Form
Should you want to contribute an article or advertise in our new magazine please feel free to contact us via the form below.

Click To Contact